Imagine a whole year without a full weekend outdoors! And that's what this year's been for me. Been some good one day outings, but nothing that spanned a weekend. When Humaid told me he would be in Karwar for the long Diwali weekend, I jumped at it and almost invited myself over :D
Booked tickets almost a month in advance, put it down to enthusiasm as well as the trend of Bangalore to have a mass exodus on long weekends and the impending ticket crunmch.
Karwar's always been a magical place especially with the whole heady mix of herps, birds and fish! Booked a 400mm f5.6 prime from the fabulous guys over at toehold in anticipation of some good shorebirds at the beaches/estuaries.
All excited about the prospects of a weekend outdoors headed out on Nov 4th evening with an overcast sky, with the thought of the mad rains in the coastal belt somewhere in the background ;) Even if it rained, I'm sure I would have still enjoyed that! The wait for the Panaji bus was exctrutiating, the large mass of people at the bus stand did not help either. The much awaited bus which would take the holiday-ers to Goa arrived a full hour behind schedule. Then, it was Bangalore city's raods to show how choked they can be! The Metro work coupled with the drizzle and weekday traffic brought the bus' pace comparable to a snail's. An uneventful journey to Karwar and I see clear skies! A stark contrast from the last experience of "torrential" rains. With a smile on my face got a rick to Humaid's place where I was greeted by his dad and mom.
A quick break and we were off to the estuary nearby. Was high-tide, but the sights were amazing. Had been here during the earlier trip too, but the rains had severely limited visibility (read more here - http://iridealone.blogspot.com/2009/06/karwar-place-where-rain-gods-smile-all.html)
The vast magngrove system at one side of the bridge and the mountains on the other. For the sore eyes it sure was a treat :) Took in some of the atmosphere and clicked away looking for frames.
The other side of the bridge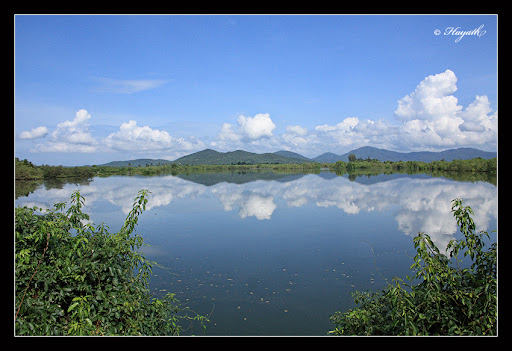 Humaid tried out his luck with hook and line, and managed to get some catfish, an interesting goby (locally called "Kherchi"), Terapon jarbua and this very interesting black damsel-shaped fish.
Terapon jarbua
The goby
"Shengdi"
A moray eel swimming past
Schools of fish were found on the banks too. Estuaries provide perfect nurseries for fish
Changed over to the 400 prime with excitement and snapped a few again. The lens seems heavy but very much hand hold-able. The AF is one of the faster one's I've seen. The fixed focal did make composition a little tight, but was a nice first experience.
A parakeet couple nesting in this dead coconut tree.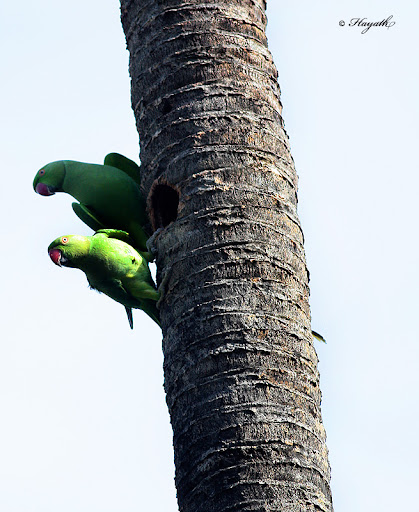 A green barbet making it's nest
A couple of closeups of butterflies too :D
This nice field of flowers framing the backdrop nicely
With the clouds threatening to burst anytime soon, we reached home just in time to avoid the downpour (which went on for a couple of hours). Used this time to snap a skink which Humaid caught.
The neighbour's kids eager to show off their cute lil kittens to us
The play of light
A sumptuous lunch and a quick nap later, we were back at the estuary to explore it at low-tide. The exposed area of the estuary just bursts out with life. Tons of fiddler crabs out to feed, and never far away from their burrow/hole. Was quite amusing these little fiddlers (compared to the other larger crabs) show off their overgrown hands to the others.
This very different almost "ghost" like crab
Unknown blobs of jellies found on the exposed bed
The fiery red ball announcing it's retirement for the day.
With the sun setting quick, I almost forgot looking left towards the base of the hills. What a sigth to behold! The sky colored a slight blue, fishermen's canoes forming a strong silhouette, low lying clouds at the base of the mountains. Too bad had just taken the Tamron 90 with me and no wide(r) lens, but I guess some sights are to be experienced only (yeah yeah, the grapes are sour story :P)
With the light fading, fish began to tug at Humaid's line more. We caught the toadfish, locally called "Ukkeer"; something which got me excited. This species is a lot more different than the toadfish I have at home (Allenbatrarchus grunniens). A lot lesser "decoration" on the body and a nice horn like tuft above the eyes.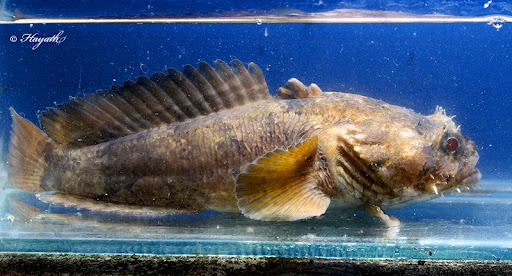 Content and happy, we returned home to plan for angling at the river side again ;) Used the line and hook after more than a decade. (As a kid, used to go out fishing once in a while in the Arkavathi river in Kanakapura)
We caught the same catfish species here (locally called Shengdi).
A good 4ft plus moray eel also took the bait.
Was lucky to reel in another toadfish.
There's a saying
"Men go out fishing not realising it's not the fish that they are after"
How true!, especially if it's as a leisure activity. The night sky littered with stars, waves splashing on the clamshell colonies, the dark waters, fishermen paddling their canoes all made it surreal. The serenity was captivating.
With dinner in our tummies and Anshi on our plans for the next day, we retired to bed.
Early next morning visited the old bridge on the estuary to view the sunrise. The large mountains on the left prevented any good early views of the rising sun, and when the sun started shining, so did the waters :)
Had some socializing with the local fisherfolk.
They even called out when they were about to use the cast net :D
Some even offered me some of their catch, which I turned down politely (did not want to take back the normal scats, monos).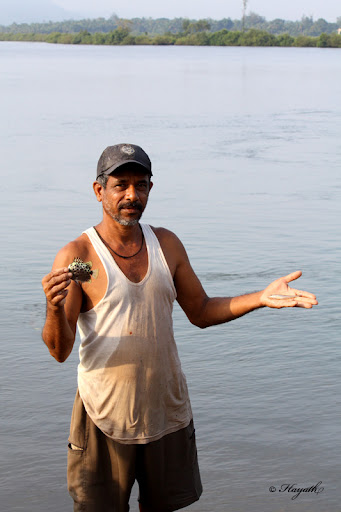 On the bridge I saw lots of moray eels discarded. Apparently the locals prefer not to handle them since they have razor like sharp teeth. What a waste!
But they tell me these are more than abundant here...
The tide seems to determine the activity of this rustic town. During high tide everyone is busy fishing and enjoying the bounty of the estuaries.
These kids showing me a Barramundi which swims inland to hunt on the smaller fish here.
The morning light lending some nice light on this Brahminy kite looking for a meal.
Back for breakfast, we headed out towards Anshi national park on our bikes. Humaid's cousins - Imran and Rauf joined us.
The streams leading to Kadra are pretty untouched (and thankfully devoid of morning droppings from people).
This tiny well-camouflaged mantis preying on some bug
Can someone ID this for me please?
The lone reptile - a Calotes
Spotted the Puntius filamentosus and Puntius sarana subnasutus here along with the usual Rasbora daniconius.
Humaid and Rauf trying out their luck
Talk about camouflage!
Moved onto a large-ish stream which had this magical blue-green tint to the water - straight out of a postcard!
The normal killies, Rasboras and Puntius filamentosus were found here.
The rocky bottom would have been ideal for loaches. Did/could not spot any at all. Anyone have collected/documented loaches from here?
With our tummies calling out for attention (read hunger :P) we reached Kadra. Stopping over at Kadra dam, we spotted Puntius filamentosus and some juvenile mangrove jacks (apparently come here up river from the estuaries search of prey). Asking around for lunch, we reached a nice shack where we had "fish oota" (fish meals). The skies decided to open up again, and we used this time to get some rest and water proof our belongings.
All the snakes we saw till now were roadkills, and most of them were these beautiful and dainty green vine snake :( As they say "A crime shame!"
The amazing colors on this one, wish we had seen one live!
Rode out towards Anshi with some nice roads and greenery all around. This nice waterfall on the side of the road. Could not see any fish here.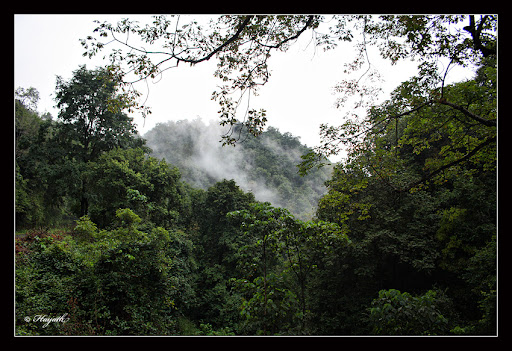 That's L-R Humaid, Imran and Rauf
The possibility of a lot of snakes/herps in general got me excited. Plan was to reach Anshi by dark and look out on the roads. Sipping on tea at a road-side shack we tried out some smoke photography and long exposures.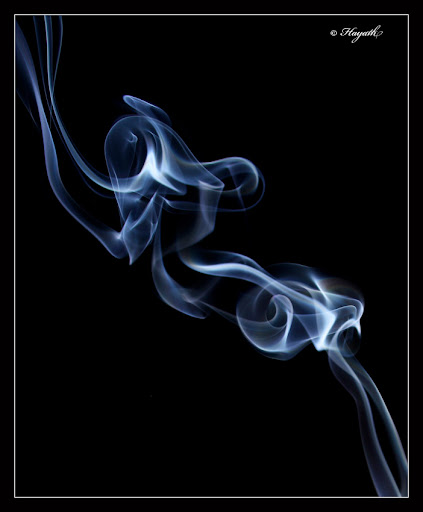 With darkness set in, we started our journey down the ghats looking for activity on the road. All we spotted was a single frog and soon we were back at Kadra. All the low-gear riding used up more fuel than we thought and we were out of fuel. Thankfully we were past the ghats and we stopped right in frony of a lamp-post. "Transferred" some fuel from the other bike till we could locate petrol somewhere. And we found fuel in a
"Grocery shop"
. Karwar has limited petrol bunks, so most of the shops here do stock up on Fuel, and how thankful we were for that now ;)
With a constant drizzle we reached Karwar sound and safe.
A few of the moths attracted to light
Fundoo hairdo :D
Post dinner, it was Diwali time. Burst some crackers and slow shutter fun exposures :D
Final day morning and we reached Devbagh beach early.
Was a nice walk on the shore, but the only birds we spotted were lone Ringed plover and a Common sandpiper. The Karwar beach did not yield anything either.
Some shots from the beach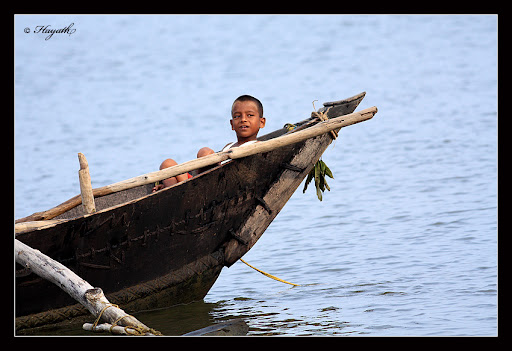 The crabs which were found in plenty
Surprised with disbelief on two consecutive days of not having spotted anything, moved onto the fishing harbour called "Baithkol". Lots of boats coming in with their catch and people eagerly waiting to buy fish in "wholesale".
The social bonding time for the fisherfolk to mend their nets each day
Moved onto the breakwater area and the smell (or should I say the stench) was overpowering. My shoes did not touch the ground, all that was there below was layers of dried fish, mostly powdered and lots n lots of maggots! The dried fish supplies the poultry industry with feeds.
Got some nice close-ups of the common Cattle egrets and pond herons.
Reached Karwar back for a quick eat at the bakery and went out to explore the weekly Sunday fair. If one thing would denote Karwar - it's got to be fish!! And lots of it, in all forms - powdered, dried, cut; you name it.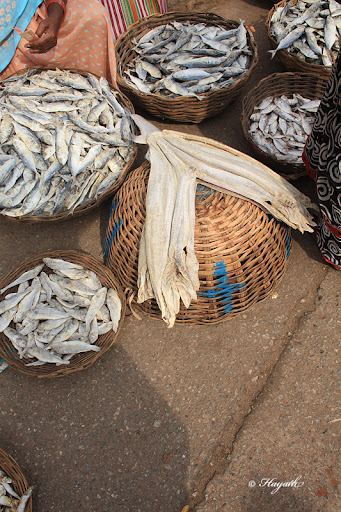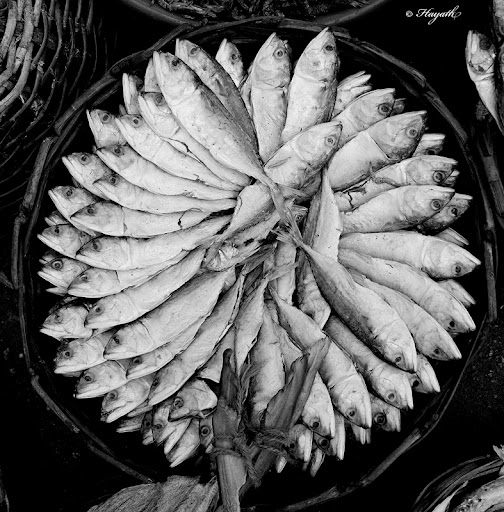 And one thing not fish :D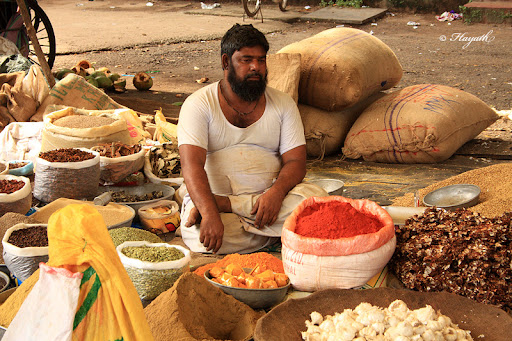 Ventured into the overcrowded fish market to peek at the catch they were selling. Sharks, Rays, Skates and even this beautiful looking Angelfish.
Took a rick back to Humaid's place where he was packing up bags to head back to Pune. Bid our farewells and off Humaid went. The family though continued to shower their hospitality and had a sumptuous lunch and a quick nap.
Went back to the bridge for some last hour shots, and yet again greeted with the fiddlers. Taking some final shots, I explored the receding tide exposed waterbed seeing the hermit crabs forage around.
The clam colonies which are razor sharp, can hurt very bad
And this perfectly camouflaged Goby which was quite common here.
Even the dogs here seem to enjoy the low tide, frolicking around
A bunch of kids who had seen me here earlier here offered me a nice looking Butis and this damsel-like fish. Thankfully the hook had not peirced deep and these were in good condition to be brought back.
This grouper(?) wasn't as lucky
With one last parting shot which sort of befit the journey, headed back
Reached Humaid's place quick and packed up bags. Rauf dropped me off to the bus stand.
Cannot thank Humaid and his family enough for providing shelter and food. The hospitality cannot be thanked, only acknowledged :)
Would have wished this would have been a nice end to the journey, but far from it! The darn bus (Rajahamsa) from Karwar to Bangalore had all sorts of problems - headlight which kept falling off, problematic clutch, and I'm sure problematic brakes too! We lost a huge chunk of time trying to fix it, many pleas to have the bus changed fell on deaf ears.
Morning stop at Kamat near Tumkur was only a temporary respite, the mad Bangalore traffic awaited us. Stuck on the road for hours on end with the crazy traffic with rains n puddles and the bus driver trying hard to manage a jumpy clutch. Adding to everyone's woes was the Metro work near Yeshwantpur :(
All drained and with a sore back, landed home around lunch time with the gloomy weather. A nice nap followed :)
Adios till the next trip!
Cheers,
Hayath